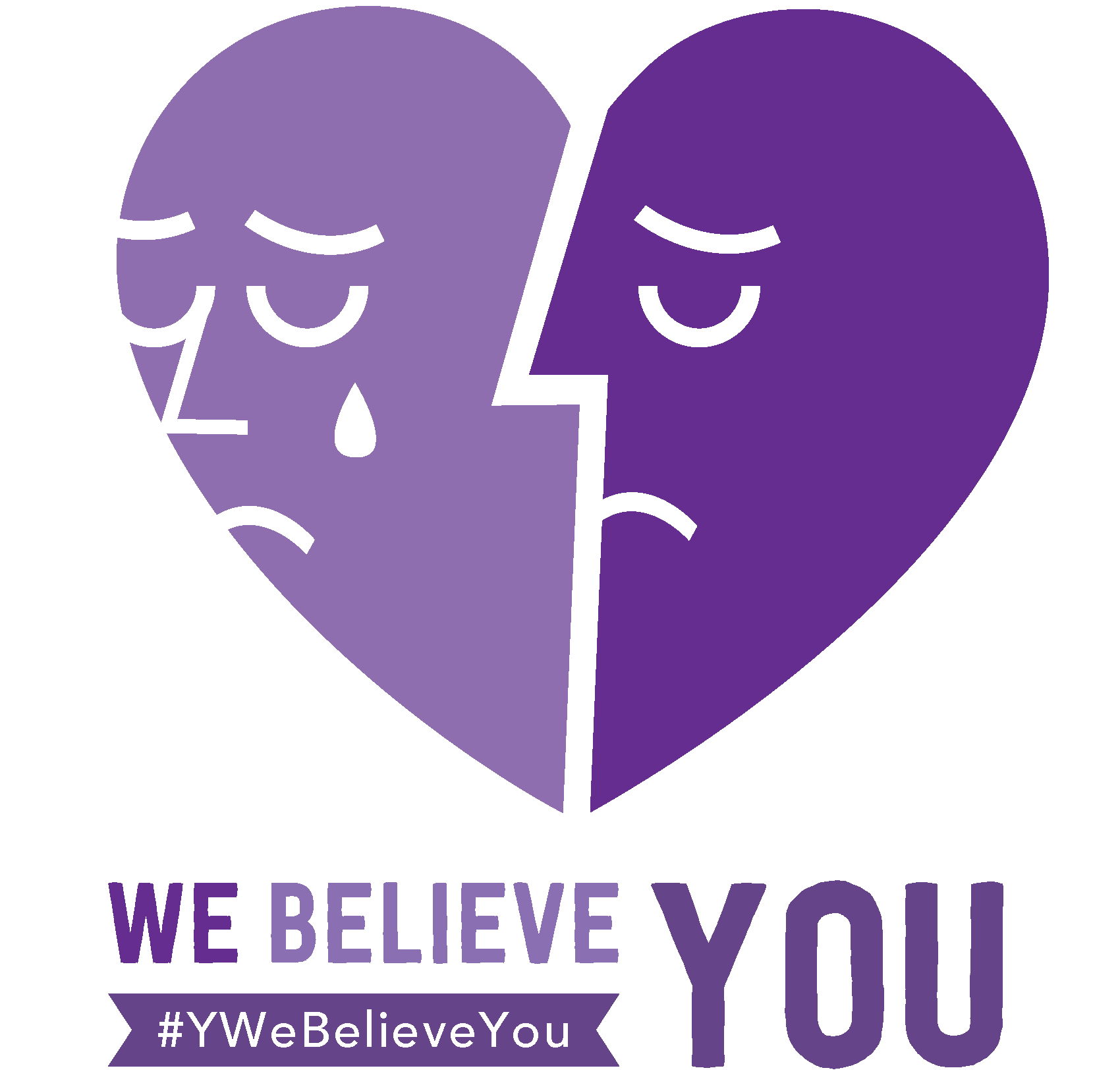 Domestic Violence Awareness Month
Thank you to everyone who joined us throughout the month of October. We are already working on plans for DVAM 2020- stay tuned!
_________________________________________________________________________________________________________
Throughout the month of October, we ask you to join us for Domestic Violence Awareness Month by saying "We Believe You" to victims of domestic violence. See below for all the awareness activities, events, and campaigns!
Ribbon Campaign
October 1, 2019
Watch as the YWCA covers our community in purple ribbons throughout October. These bows help raise awareness and lead passersby to resources if interested in learning more or seeking help. Take part in painting the town purple by getting ribbons for your neighborhood and workplace! Contact Ally Johnson at aejohnson@ywcaknox.com for ribbons. Minimum $5 donation is suggested. All proceeds go to the YW's life-saving services.
GameChangers Men's Committee Kick-ball Outing
Details to come! 
Join the YWCA GameChanger's Engaging Men and Boys committee for family friendly outing and discussions on domestic violence, healthy masculinity, and how to prevent violence against women and girls. You won't want to miss this! Follow us on social media for event details and updates!
Talk & Toast with Ellen Reid
October 10, 2019
Grove Theater, Oak Ridge 5:30PM
Pulitzer Prize-winning composer and native Oak Ridger Ellen Reid joins YWCA for the latest Talk and Toast!  Ellen will share excerpts and discuss her award-winning opera p r i s m, which confronts the difficult topic of sexual and emotional abuse.  Immediately following, YWCA CEO Alizza Punzalan-Randle will moderate a panel discussion with YWCA staff and victim advocates on the topic of domestic violence.  More details and tickets available here.
Oak Ridge DVAM Breakfast
October 11, 2019
1660 Oak Ridge Turnpike, Oak Ridge
Oak Ridge's Coordinated Community Response Team and guests will take part in a discussion commemorating Domestic Violence Awareness Month with guest speaker, Britney Green!
Lenoir City Candlelight Vigil
October 15, 2019
Lenoir City Park, 6:00PM
Did you know 1 in 3 women will be victims of domestic violence in their lifetime? Take part in this evening candlelight vigil recognizing those affected by domestic violence. The evening will also include light refreshments, guest speakers, and end with a moment of silence.
Party with a Purpose
October 25, 2019
124 S. Cruze Street, Knoxville
The YWCA Phyllis Wheatley Center's After School Enrichment Program shows support of Domestic Violence Awareness Month through their Party with a Purpose. Our youth are educated on domestic violence and healthy relationships through crafts, activities, speakers, and more!
Percentage Nights
October 2019
Local businesses and restaurants help raise awareness all month by partnering with the YWCA and donating a percentage an evening's proceeds to YWCA life-saving domestic violence programs. A special thanks to all our generous partners! Show your support by visiting the following businesses and restaurants on their YW Percentage Night.
Social Media Kick-Off
October 2019
Follow us on Facebook, Instagram, and Twitter all month-long by using #YWeBelieveYou to raise awareness.
More!
We'd like to send a big shout out to our local media partners in spreading awareness: Star 102.1 and Hot 104.5.
For questions or how to get involved, contact Ally Johnson at the YWCA at AeJohnson@ywcaknox.com or call 865-523-6126.