YWCA in the News
The YWCA is on mission to eliminate racism and empower women. We can speak to our work in Knox, Blount, Anderson, Roane, Loudon, and Sevier counties in East Tennessee on everything from transitional housing, domestic violence, special events and serving the youth in East Knoxville. Our CEO Alizza Punzalan-Randle welcomes the opportunity to speak about YWCA's work, and our Director of Public Relations, Karlyn Reel can connect you with the experts from our organization who serve our community.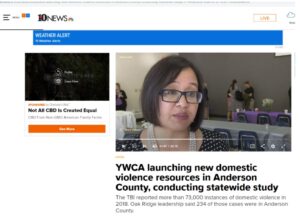 Big announcements from the first Coordinated Community Response Breakfast
October is national domestic violence awareness month, and that crime is something many leaders and groups in Tennessee are trying to combat.
TBI Director David Rausch said Easter Sunday is "the most violent domestic violence day in the state of Tennessee." The TBI reported 73,568 instances of domestic violence in 2018.
Pulitzer-Prize winning Oak Ridge native shines spotlight on domestic violence 
By The Oak Ridger
Following a scheduled social time of heavy hors d'oeuvres and handshakes in the Historic Grove Theater late Thursday afternoon/evening, 2019 Pulitzer Prize-winning composer and sound artist Ellen Reid addressed a crowd of about 40 people — some of them familiar faces to her — with scenes from her Prize-winning work: p r i s m.
2019 Tribute to Women Honorees Announced
The YWCA of Knoxville and the Tennessee Valley awarded the honorees of its 35th Annual Tribute to Women Awards Wednesday night at the Bijou Theatre.
The event honored all 21 finalists and named an honoree in each category, who were chosen by out-of-state judges in leadership positions at YWCAs across the country.
Nonproft Spotlight in City View Magazine- Creating a Community of Advocates
Fatima Ahdaouil has always loved working with the community. But it wasn't until she began working with the YWCA Knoxville and the Tennessee Valley that she realized how powerful her ability to connect could be.
Click HERE to read the full feature.
New Funding will provide DCS Liaison Victim Advocate for YWCA
By WUOT Chrissy Keuper
YWCA Knoxville and the Tennessee Valley has received new federal funding under the Victims of Crime Act that will help expand advocacy for victims of domestic violence, specifically in Anderson, Loudon, and Roane Counties. WUOT's Chrissy Keuper spoke with Maggie McNally, YWCA's Senior Director of Programs, about the grant. McNally says the YWCA already has some programs in these counties, but the grant money will allow for growth.
Listen to the full story by clicking HERE.
Chronic Absenteeism in schools still a problem statewide
By WBIR 10 News
In the state of Tennessee, almost 150,000 students miss school every day. Experts say barriers like health challenges, school discipline and poverty play a huge role in keeping them out of the classroom.
Click HERE to watch the video. 
Punzalan-Randle comes home to lead YWCA
By The Ledger- April 5, 2019
Alizza Punzalan-Randle's classmates had only shown "Southern hospitality" when she and her Filipino family moved to Knoxville from Detroit – until the day the sixth-grader opened her locker and found herself staring at a collage of photos apparently snipped from the pages of National Geographic.
Click HERE to read the full article. 
UT-Battelle and ORNL Gift Over $13,000 to YWCA Progress
Oak Ridge, Tenn. (March 9, 2019) – The YWCA Knoxville and the Tennessee Valley is pleased to announce two contributions totaling $13,000 from UT-Battelle, the managing contractor of Oak Ridge National Laboratory, and Oak Ridge National Laboratory's Black History Month Committee.
Department of Justice Grant Enable YWCA to Expand Transitional Services to Five Counties
Knoxville, Tenn. (November 2018) — The YWCA Knoxville and the Tennessee Valley is pleased to announce that it has received a three-year federal grant totaling $465,243 dollars from the Department of Justice's Office on Violence Against Women. This grant will expand scattered-site transitional housing services, which are currently offered in Oak Ridge and Anderson County, to five additional counties (Blount, Knox, Loudon, Roane and Sevier).