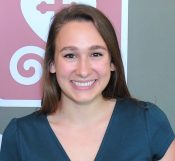 Ally Johnson | Community Engagement Manager
Ally Johnson joined the YWCA Knoxville in 2016 as the Development and Events Intern. She came on part-time as the Development Assistant after graduating in December 2016. During that time she assisted with fundraising, event planning, donations and volunteer coordinating. In August 2017, she joined full-time as the Community Relations Coordinator and has since become the Community Engagement Manager. Ally orchestrates community outreach for GameChangers, serves as volunteer coordinator, organizes the advocacy efforts of Domestic Violence Awareness Month, and supports the development department with special events.
Ally has her Bachelor's Degree in Communications and Public Relations from the University of Tennessee.